Ok, admittedly, "perfect" is in the eye of the beholder, but it's a headline that got you to read this far. When it comes to making great emails that bring interest to your brand, there are some proven ways to do it right. BuildMyReputation.net has sent thousands of emails on behalf of clients and through trial and error, we've learned the nearly perfect way to build a communication that earns interest and action. 
We reverse-engineered an email sent earlier this year by us that earned a 42% open rate. In skydiving, that's a pretty bad percentage for parachute openings, but in digital marketing, it's great considering the industry average in the business category is 21.94%
Here's how it's done.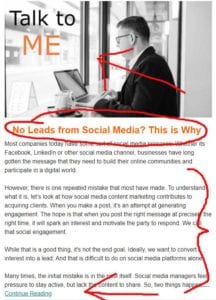 Hero image
Have a good image and alter it to be your own. We recommend a tool called Pixlr that helps the novice navigate basic design.
In this example, we added text and changed a color image to black and white to fit our theme. Original Images are always best, but it's not always practical. If you need to use some stock photography, go to Pixabay, Pexels, and Unsplash for royalty-free imagery. 
Avoid the temptation to cut and paste an image found online. Chances are, it's copyrighted, and you don't want to get a letter from an attorney saying you owe monetary damages. It happens all the time.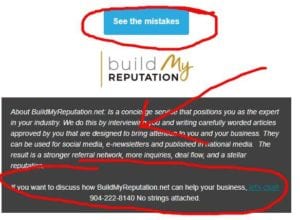 Headline
Spend a lot of time on the headline. It's the best shot you have to reel in the reader and introduce them to your article content. We like using a tool called Headline Analyzer. It's not uncommon for us to have 6 to 10 different headline versions and then A/B test the two. Only then are we ready to send out the winner to the majority of our email contacts. 
Email copy
When it comes to the email body, release just enough of the article to draw the reader in. If you have piqued their interest, they will be motivated to "continue reading." This is a hyperlink that directs to the blog on your website where they can find the remainder of the article. Why do it this way? It's because your website is the single place where you can convert interest into conversions by them downloading more information, get directions to your location, initiating a chat, or other ways you can learn the identity of the website visitor and engage with them. 
Call to action
We like having more than one "call to action," so we put a prominent button that has slightly different text than the above "continue reading" link, but leads you to the same place. The most effective emails want the reader to do one thing. 
Elevator pitch
Remind your customers of the business you're in and the value you deliver. For most companies, crafting the elevator pitch is harder than it sounds and it should evolve. Make sure your pitch ends with what the result is from using your product or service. 
Soft ask
Be careful with soliciting customers too aggressively on an email. Focus on delivering information that helps them versus asking them to buy now. That's what your website is for. However, it's also good practice to sell as fast as customers want to buy, so if you wanted to book a discovery call with us, we give you an opportunity to do that. 
Unfortunately, emails are misused alot, but it's still the most effective form of communication we have in business today. If you learn how to harness its power and move people to action, it can fuel your marketing efforts and fill your pipeline with new sales. 
What to chat about what we can do for you? Book a complimentary call (see what we did there?:)
Readers of this article also read "4 Mistakes You're Making With Your Marketing Emails."