We get them all the time. Cringeworthy, bad emails from desperate souls trying to drum up some business any way they can. Grainy images, typos, off point messaging, and the list goes on. Sometimes we unsubscribe or sometimes we give the sender and pass and wait for their next one, but we rarely click.
What are marketers doing wrong? Turns out, alot.
Depending on your industry, open rates for emails can be pretty miserable.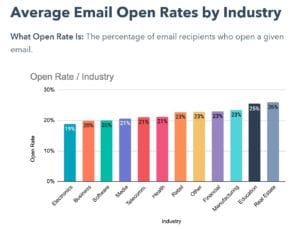 *image credit Hubspot
If you want to get your message heard, avoid these common mistakes.
Treating your audience the same
A common mistake is grouping all of your contacts together and treating them the same. The problem with this is, each of your contacts has a different relationship with your company and are motivated by different things. If you are attempting to communicate a singular message to everyone, your emails may lack relevance and many will be ignored.
BuildMyReputation.com suggests segmenting your audience into at least 3 different groups: Current clients, prospects, and referral partners. Keeping messaging on point skyrockets response rates and effectiveness. 
Content Throw up
Ever get that email that doesn't seem to end? It has a half dozen or more articles with 20 places to click?  Inexperienced marketers use this outdated strategy hoping that if they throw enough content at you, surely something will spark your interest. However, more times than not the email is confusing and overwhelming. Delete.
This is an example of a company that doesn't know its customers well enough. Guessing what your audience wants is not a strategy, it's marketing amateurism.
BuildMyReputation.com recommends to start with an editorial calendar and populate it with topics like frequently asked questions from customers, industry hot trends, and known customer interests. Next, do competitive research, choose keywords, and house the content on your website. Focus on adding value not selling. 
The best emails have one single focus. Less is more. 
No clear action
Marketing emails have one purpose, to generate interest. But once you have the interest, what do you plan to do with it?
Sending out emails without a call to action is a waste of time and creates noise. There should be an action you want the reader to take. It doesn't always have to be a command to buy, and it can be an invitation to view your website or solicit feedback from a product launch. Engagement comes before every sale. 
The Relentless "Buy Now"
BOGO, Holiday sale, no payments for 30 days, Free- ENOUGH! Retailers are especially guilty of this practice and view their customers as unlimited cash dispensers. Try this technique instead. Think of your relationship with your customer as a bank account. Before you make a withdrawal, you need to have a made a few deposits. In marketing a "deposit" is something that adds value and nothing is asked in return. It's goodwill and what friends do for one another. When you need to make a "withdrawal", thats the more direct "buy now" style of messaging. For professional service companies make sure you are delivering at least 3-1 value-based emails vs. asking for a sale. 
If you can steer clear of these 4 mistakes, you can outpace your competition and see an appreciable difference in your open rates. More interest equals more sales. Thats the idea right? 
If you liked this article, you may have some interest in the next post "How to Build the Perfect Marketing Email"